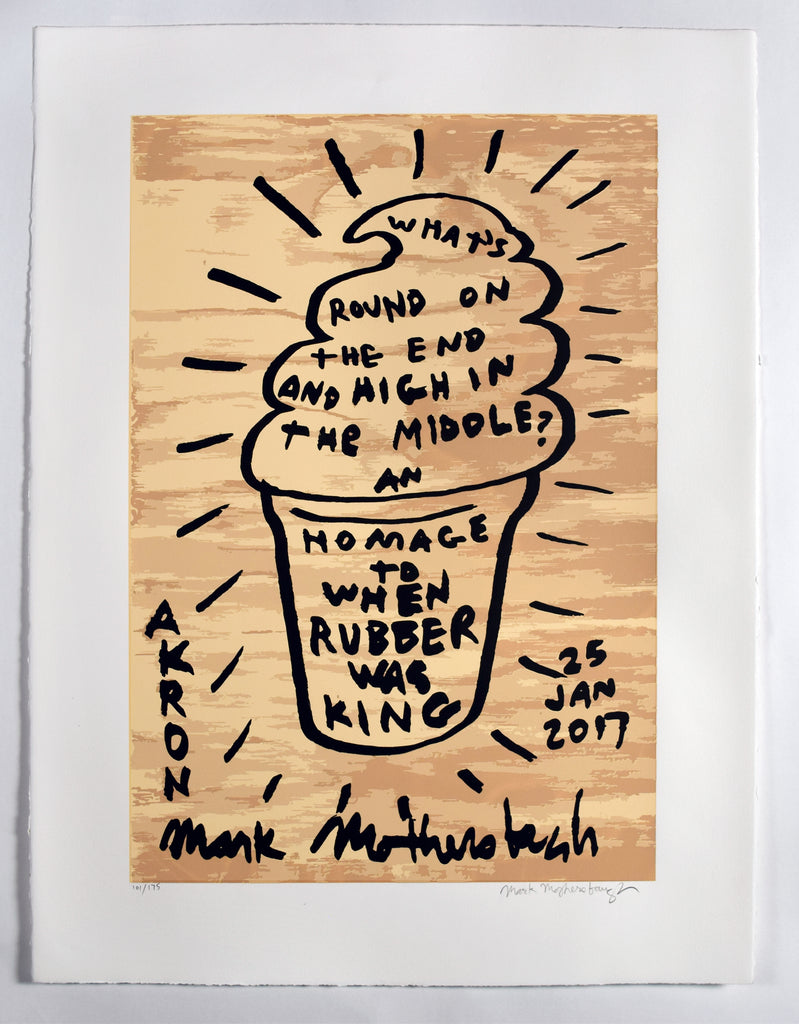 An Homage to When Rubber Was King by Mark Mothersbaugh
When Mark Mothersbaugh's sculpture Rubber Kusturd arrived at the Akron Art Museum in early 2017, the wooden shipping crate it came in had an unexpected bonus.  In giving his artwork a sendoff, Mothersbaugh drew a picture of it on the side of the crate, and scribbled a riddle familiar to most Ohioans "What's round on the end and high in the middle?" along with what became the title of the print An Homage to When Rubber Was King.
Museum staff was taken with the charming drawing, and it seemed a shame not to share it somehow.  Working with Professor Hui-Chu Ying of the University of Akron Myers School of Art printmaking department, the museum commissioned a print of Mothersbaugh's drawing with her students.  The result, created by Danny Herman, Allison Jones, Matthew Leonhard, Nate Gilchrist, Winnie Daulbaugh, Raven Burdette and Jared Faust with Ying's instruction, was printed in a limited edition of 175.  Now you can own one the iconic artworks that celebrates Mothersbaugh's sculpture, Rubber Kusturd.
Unframed signed and numbered print measures 22" x 30" overall.
Image measures 16" x 24"
$125
---
Share this Product
---
More from this collection